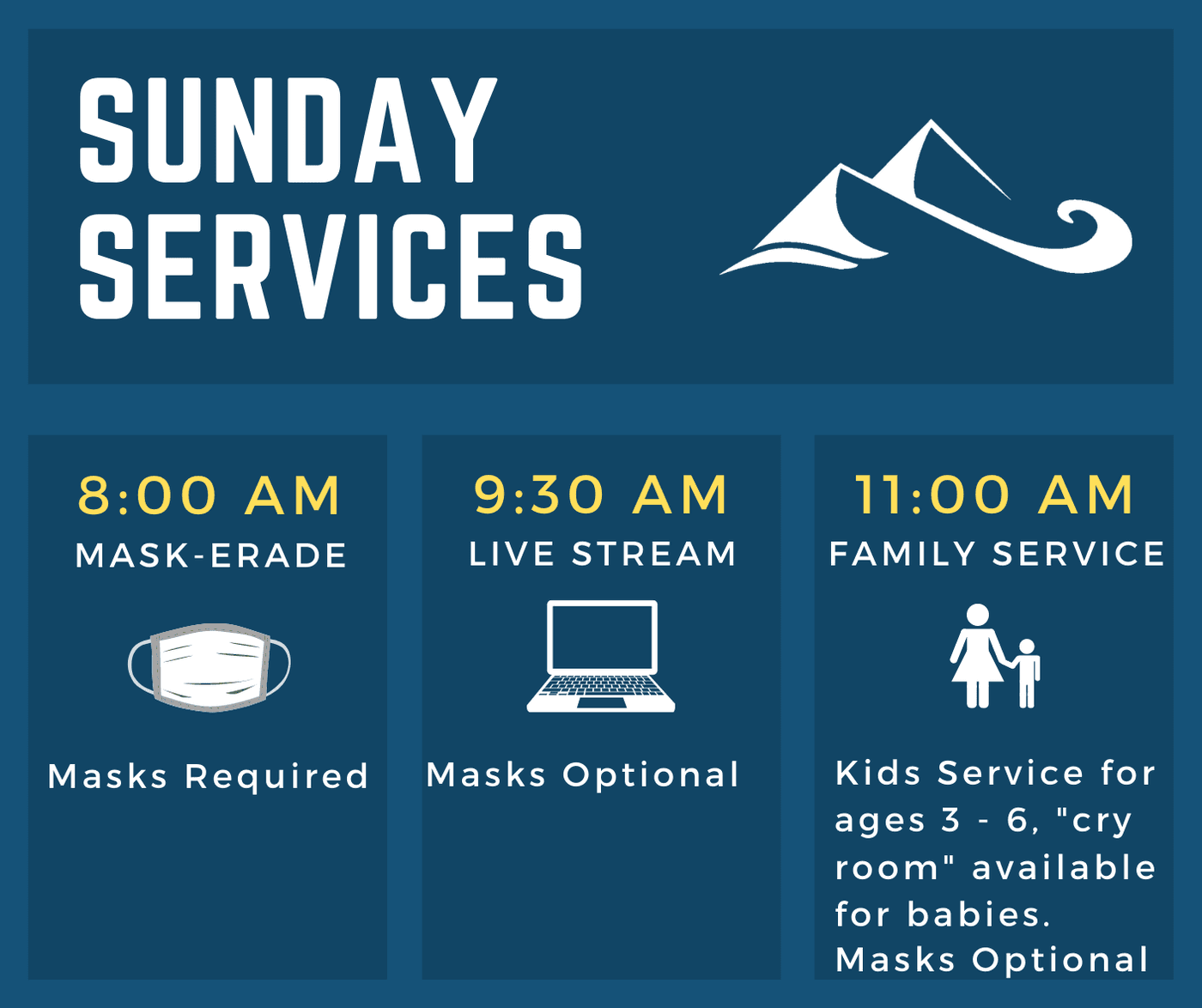 3 Services Update
8:00am Service – Masks REQUIRED
for everyone participating, no children's ministry. Early bird gets the worm! No signup required.
9:30am Service – Mask not required, no children's ministry, AND this will be our ONLY service livestreamed online.
no sign up required.
11:00am Service – Family service with children's ministry for 3-6-year-olds and a baby cry/play area available during the service. We will conduct a brief health screen of all kids participating in our kid's program and we encourage you to preregister your kids so we can plan ahead @ https://cotrhomer.org/sundaysignup
ALSO, if you are worried about your crying baby, or fidgety eight-year-old, the 11:00 service is for you. We will be loud and proud!
Please reach out and let us know if you have any questions, and if you are able, SHARE this and help us spread the word!
Location: The Rock Office 1061 East End Rd.
Church Online Explained
LIVE STREAM: The plan moving forward is for us to livestream ONLY ONE service on Sunday morning--The 9:30am Service. If you miss the livestream, you will need to wait until Tuesday to watch/listen to the published Weekly Teaching.
WEEKLY TEACHING: We are returning to our routines and posting the weekly teaching to Vimeo, the app, Youtube and our podcast on Tuesdays.
Click here for podcast of weekly teachings(Audio)
Click here for videos of weekly teachings + worship(Video)
WORSHIP RECORDING: We will be adding the worship recording to the weekly teaching at some of our locations online(Youtube/Vimeo/FB).
WORSHIP PLAYLIST: The worship playlist will continue to be updates with the last two weeks worth of worship songs from Sunday, in addition to any new songs coming up.
Watch Church Online
9:30am Live Here
or Here
or by Tuesdays on our Podcast
Common Questions
Where are we currently meeting
The Rock Office which is located at 1061 East End Rd.
When will we be back in the High School?
We don't' know. The High School doesn't know. And the district doesn't know. Much depends on the next one or two of COVID

Are there other meeting space options available?
Maybe. There are some other options that we can pursue but each come with significant limitations. If the school is not available come September, we may consider one of these other options.
do I have to wear a mask?
Masks are optional at the 9:30am and 11:00am service, but are requiring masks for everyone attending the 8:00am service.
I heard there isn't normal kids church. Can I bring my kids?
YES! However, this is only available at the 11am and for kids ages 3-6. Additionally, you need to sign up your kids ahead of time to help give us a headcount. :D If you have young kids that don't fit the ages for kids church and you're unsure about how that will work, we got you covered. Our 11am service is intended as the family service, with the adjacent kids room being available for you and your kids if the need arises. :)
I missed part of the livestream and now I can't find it...
This is correct! While we are able to live stream the entire service, there are some quality and policy challenges with us leaving the livestream posted after the service has finished. So while the FB recording expires right after the service, we publish the entire edited and produced service on Tuesdays everywhere online. This allows us a bit of time to fix some things before posting it to the internet permanently.
I heard Aaron loves public praise. I thought this EMBARRASSED him?
Thanks for asking about this. Yes and Yes.